At Community Finance Ireland we take a hands-on approach when it comes to working with our clients. We put people first. When our clients call with a query, they hear a familiar voice at the end of the phone. They know the face who is at the other end of an email. Our Change-Makers are on the ground, supporting communities, meeting clients and making an impact in their regions.
We speak finance but we hear people – So, we thought you might like to get to know them a bit better.
Our first Change-Maker is Emmett O'Hara, Client Executive from Meath. Working with clients like Alone, Irish Association of the Deaf and Dublin Food Co-Op in North Leinster, Emmett is passionate about getting out on the ground and helping our clients make change happen.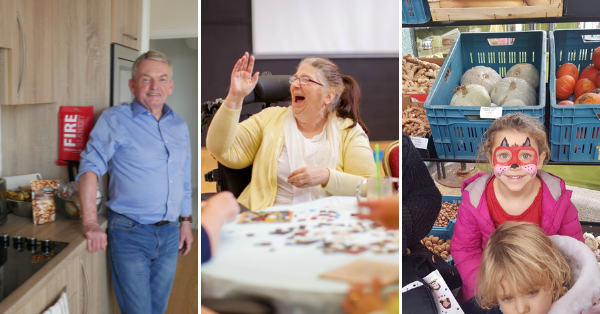 What did your journey to Community Finance Ireland look like?
I came to Community Finance Ireland after 24 years at one of the top finance lending businesses in Ireland where I went direct from school and worked through numerous roles initially in back office support before progressing though to credit risk, and front line commercial banking management roles. In that time I've also studied for a BSc in Credit Risk from Dublin Institute of Technology/Technical University Ireland. I hold a QFA and a Professional Diploma in SME Credit from UCD/Institute of Bankers. So, I bring a lot of financial experience to the team and I'm still learning! I'm currently studying for a Diploma in Big Data from Dublin Business School.
What does your current client base look like? Are there sectors you expect to see or want to see growth in?
Our current client base includes a good number of sports clubs, particularly GAA Clubs, but there's also a mixture of social enterprises, faith-based organisations, organisations in the health sector, environmental organisations and community working hubs.
In terms of how our client base might change or grow in the future – it will all depend on what communities need. We'll continue to maintain and develop strong relationships with our existing clients across those sectors and keep talking to people in local communities to understand where else we can provide the support they need. We'll always look to expand our offering in sectors such as the environment and community working hubs which are definitely a key focus from a government and, more generally, a societal perspective given the great changes we've seen in the last year or so.
Do you have a client that, in your opinion, best demonstrates the impact Community Finance Ireland can have?
In my opinion, I would have to say Let's Get Talking – a non-profit Counselling & Psychotherapy Service providing accessible, professional, non-set fee therapy across Ireland. Each client of the service is treated according to their needs and not what they can afford to pay. They focus on early intervention, supporting adults and children in relation to a wide range of issues ranging from depression, anxiety, stress, relationship issues, addiction, trauma, bullying, eating disorders, parenting issues, and family breakdown support.
Let's Get Talking have seen a 53% increase in demand for access to their services due to the pandemic. Community Finance Ireland has been working with Let's Get Talking for the last year providing support which has allowed them to increase their weekly appointments to clients nationally and helped them to be proactive in their response to the mental health implications of the pandemic. Our support has meant that Let's Get Talking remained accessible to clients by providing online counselling & psychotherapy since March 2020.
Let's Get Talking is now in a stable financial position and ready to move to the next stage of their strategy to further provide mental health services to the community. Community Finance Ireland will be there to support them along that journey whenever they need us.
How do you switch off from work? What are your hobbies and interests? (Do you play with any local clubs? Do you coach any local underage teams? Are you involved with a community group?)
I live with my family within walking distance of Bettystown Beach in County Meath, so a large part of my unwinding time is spent there!
Both of my children are involved with local sports clubs Naomh Colmcille GAA and Donacarney Celtic Football club so a large part of my time when I am not working or studying is spent ferrying them to training or matches.
Now you know a little more about us, we'd like to hear about you.
If you and your team have a dream that could make a difference in your community, we're here to listen. Whether you want to change something by solving a problem or creating an opportunity, we want to hear what you have to say.