– Community Finance Ireland delivers €3.8million in support of local sports clubs –
The oldest skiff-rowing club in Dublin will be launching their traditional skiffs from a modern new pontoon at the mouth of the River Liffey thanks to support from Community Finance Ireland (CFI).
Founded in 1936, St Patrick's Rowing Club in Ringsend has taken the All-Ireland Senior Skiff Race title 16 times in the last 20 years and has secured gold in international competitions in London and Italy. The club now boasts a membership of 100 people, aged from 9 to 90.
Treasurer at St. Patrick's Rowing Club, David Cox said that the new infrastructure will enable the club to streamline their activities – getting their heavy training boats on the water with less manpower – and crucially make their boats fully accessible for wheelchair users. He said:
"Skiff racing originates from hobbling – a competitive business which saw working boats race to approaching ships to pilot them into port and win the contract of unloading and loading their cargo.. When this practice was outlawed in 1936, clubs began to appear all along the Dublin coastline and beyond, with our own club here in Ringsend being the first. So much of our community is steeped in this rich history but we also want to give our members the best, most advanced infrastructure that we can and importantly, to make it accessible to everyone in the community. This new pontoon means we can get everyone out on the water to enjoy this fantastic sport."
Traditional skiff boats are 25 feet long, housing four rowers and a cox.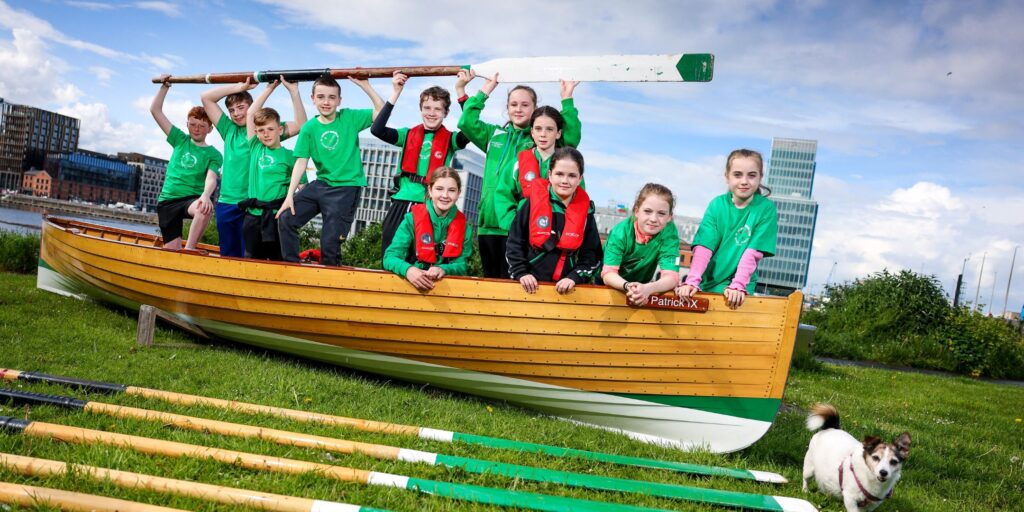 Visiting the new pontoon, Barry Symes, Head of Community Finance Ireland ROI, said:
"Watching the team here at St Patrick's Rowing Club working together – it really is all hands on deck to move these skiffs down the water but with this new pontoon you can see how much easier that task is for them. It's taking the strain off the existing members, getting them out on the water quicker, where they want to be and crucially, it's opening up the sport to a even more people by making the boats more accessible.

"After recent open days, St Patrick's have welcomed over 60 new members in the last few weeks. The team here – David, Phil, Irene and Richie – have all been involved since childhood and they're passing their love of the sport on to the next generation. There's a rich history here in Ringsend and there's no doubt of the club's future either."
Community Finance Ireland provide tailored social finance supports to grassroots and community organisations across Ireland. In 2022, the team delivered over €3.8million in social finance loans to sports clubs such as St Patrick's Rowing Club which accessed a bridging loan of €40,000 to undertake the planned developments.
This bridging enabled St Patrick's to unlock two approved grants, from the Sports Capital Grant and from Dublin Waste to Energy Community Gain Projects Grant Scheme.
If you and your sports club need advice on funding options available to you, get in touch today or follow us on Twitter for the latest Community Finance Ireland news.