Community Finance Ireland are delighted to announce that we have been awarded the Social Enterprise Mark Accreditation. This prestigious accreditation demonstrates that the company is creating real benefits for people and the planet, and is committed to social impact.
The Social Enterprise Mark is an independently assessed accreditation that recognizes organizations that are operating as social enterprises. This means that they are using business to create social and environmental impact, and are committed to reinvesting their profits back into their mission.
Community Finance Ireland's CEO, Donal Traynor, expressed his excitement about achieving the Social Enterprise Mark accreditation, saying:
"We are thrilled to have received this accreditation, which confirms our ongoing commitment to creating positive social impact. At Community Finance Ireland, we believe that social finance can play a critical role in building a more equitable and sustainable future for everyone. Our recent Social Value Impact report and findings further demonstrate how social finance is working to achieve great results, and we are committed to continuing this important work."
The Social Enterprise Mark is awarded by Social Enterprise Mark CIC, the leading global authority on social enterprise. To achieve the accreditation, Community Finance Ireland underwent a rigorous assessment process that evaluated the company's social and environmental impact, governance structures, and financial sustainability.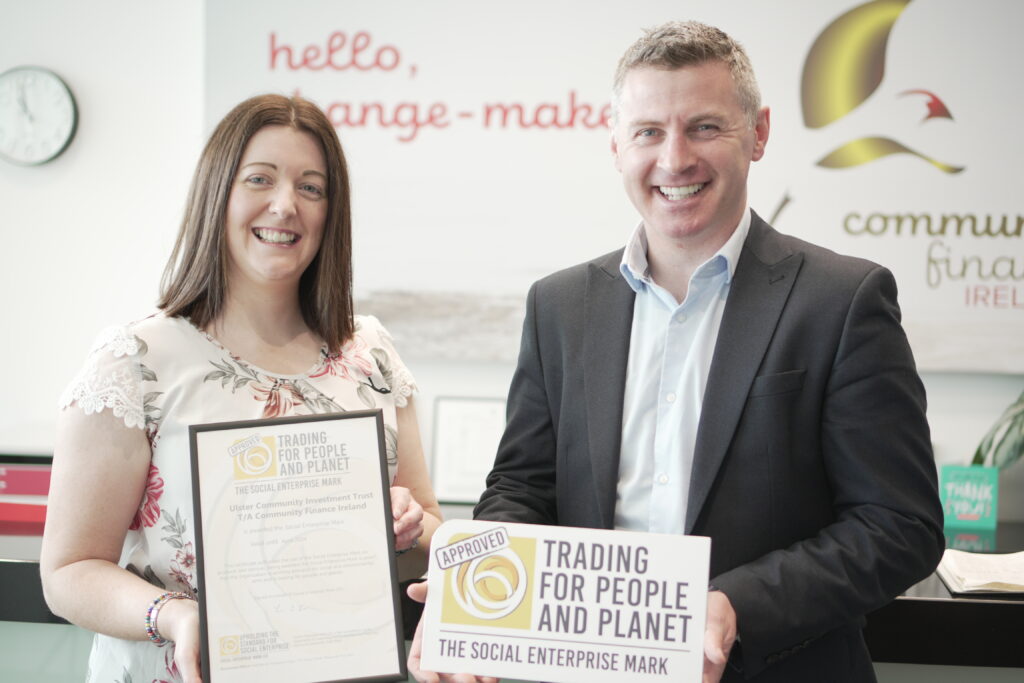 As a registered social enterprise, Community Finance Ireland is committed to using finance as a tool for positive social change. The company provides affordable loans to community and voluntary organizations, social enterprises, and charities across Ireland, helping to build stronger communities and support important social causes.
As well as recognising Community Finance Ireland's dedication to achieving high quality social impact, holding the mark demonstrates our commitment to effective good governance controls, stakeholder engagement, financial transparency and ethical and good business practices.
Stephanie Nicholl, Compliance Officer at Community Finance Ireland said:
"The Social Enterprise Mark recognises and builds the capabilities of social enterprises as sustainable businesses that are dedicated to maximising social impact. The Mark recognises the value of our social impact, specifically with our clients that we work with in the Social Enterprise sector across areas such as sport, arts and heritage, community organisations, faith and church groups and the workspace provision."
Stephanie further explains the importance of the recognition in the short video below: