Social finance is a unique form of funding. It helps communities and social enterprises make progress and build sustainable services whilst creating that elusive "social impact" footprint.
It can help projects move to the next exciting stage and many of our clients have done so by accessing both flexible term and bridging loans.
Here at Community Finance Ireland, our team have 21 years experience working with sports clubs (Kilcoo GAC, Co. Down), health/social care services (Foyle Women's Aid. Co Derry), community halls (Billy's Tea Rooms Co. Kilkenny) and digital hubs (Sneem Co. Kerry); all of whom have found that social finance enabled them to achieve social impact in their local communities.
A social enterprise, charity or community-led organisation may find themselves looking at their finance needs when assessing a project. While grants can play a role in supporting their objectives, there are those in the sector who also understand that a loan can be part of the solution and help build that new sports facility, re-roof the church, support additional employment or build office facilities in a remote village.
If your organisation is considering a new project, restructuring its finances or has an idea that will drive social impact then here are the Top 5 Tips that will make it easy for you to apply for a social finance loan:
Top 5 Tips for Success:
Share what issues you are seeking to address, the facilities you wish to develop or the opportunity you see in your local communities.
Confirm Eligible Legal Status
Ensure appropriate governing documents are in place and the applicant organisation has the appropriate power to borrow. Outline the details of those responsible including the list of Directors and/or Trustee
Highlight the positive attributes of the people behind the project, including: Commitment to improving their community, Track Record, Professional Experience and Skills. Also, evidence clear communications and insights along with sound financial management skills.
Financial stability is a key way to show your organisation will be able to repay a loan. Alongside financial stability, factor in the social and environmental impact too. Your ability to repay is assessed by looking at past, present and future finances. These typically include:
Access to previous projects results.
A review of past audited accounts.
Assess relative trends and fundraising capacity.
Recent management accounts, loans held, bank statements and debtors/creditors listings.
Future financial projections.
Demonstrate Social Impact
Typically our successful clients are driven by local job creation, local facility development, delivery of health & social care support plus the promotion of diversity and inclusion.
Our Clients Choose Us, as We Offer: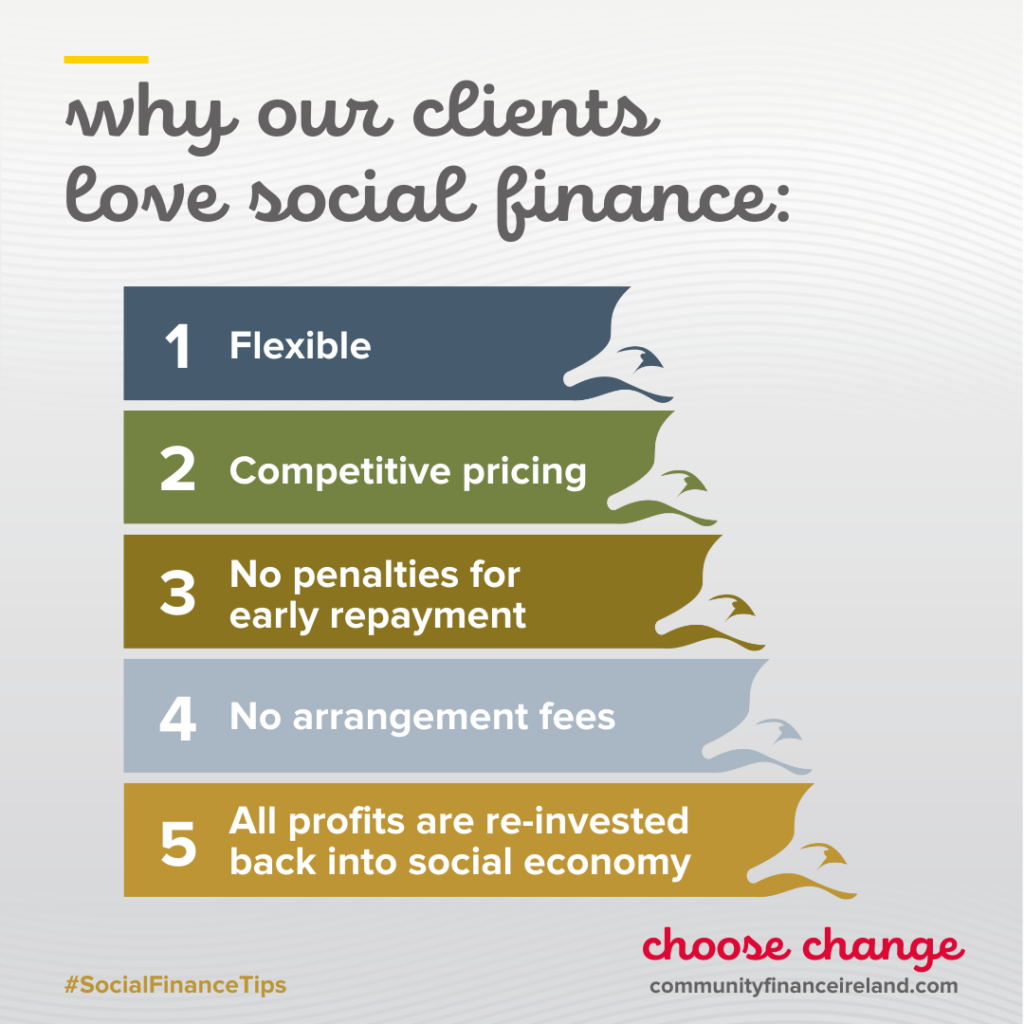 At Community Finance Ireland, We Speak Finance. But We Hear People.
In summary, social finance continues to grow in popularity as a route to helping change-makers deliver the change they want to see and be part of. Whatever you see and whatever it is that you dream of we are waiting to hear from you.
Get in touch here: https://communityfinanceireland.com/contact/
Ends.