– Community Finance Ireland delivers €7 million of support in Munster region since 2016-
A new community garden and café will open its doors at Killaloe Ballina Community and Family Resource Centre following major renovations. The renovations have been completed in time for the centre to celebrate its 20th anniversary in early July, thanks to support from Community Finance Ireland (CFI).
Well established in the local community since its foundation in 2003, the Family Resource Centre moved into the former Garda Barracks on The Green in 2017.
With the support of Community Finance Ireland, refurbishments were undertaken to make the building fully accessible; to upgrade toilet facilities; repurpose outbuildings; and to landscape the rear of the building into a community garden. The outbuildings now accommodate a training kitchen and café which will be open to the public in Autumn 2023.
Providing training and education, information services and tailored supports for young people, elderly people, parents, refugees and those with disabilities, the Family Resource Centre also offers rooms for hire to local community organistions, including the newly established training kitchen.
Kees Duson, Manager of Killaloe Ballina Family Resource Centre, said:
"When we first opened our doors in 2003, we were based in a small residential apartment, which we outgrew very quickly. We spent the next decade located in a commercial premises on Main Street in Killaloe, which, while it gave us fantastic footfall and helped many people in the community to discover our services and supports, the steep hill meant it was difficult for older people in our community and for those with mobility issues to access.

When we agreed a long-term lease with the Office of Public Works for this building, we knew we'd found a home for the community that was full of potential. This is a very old building and it had been empty for four or five years before we took it over so it needed a lot of work to address wear and tear and damp and bring it up to standard on accessibility and energy ratings. There weren't many options for community groups seeking funding around that time so we were delighted to discover Community Finance Ireland's tailored supports for volunteer and community-led organisations. It was exactly what we were looking for."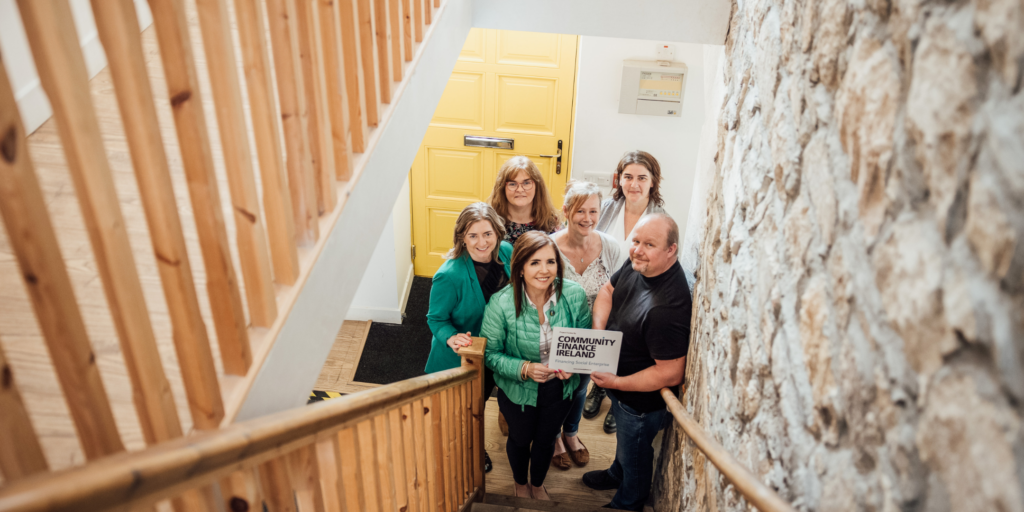 Nora Keogh, CFI Client Relationship Manager for the Munster Region, said:
"We're delighted to have played our part in supporting the Killaloe Ballina Community and Family Resource Centre through these works and to have helped make this renovation possible. The team approached us with a dream of what could be made possible with this fantastic building which would provide an accessible and welcoming space for so many individuals and groups in the community, delivering a broad range of activities, courses and events including art and crafts, computer classes and cookery programmes for all ages and abilities, youth services including a youth cafe, to name a few- and now with the expanded rooms, the new training kitchen, community cafe and garden space, all of that has been made possible. I have no doubt that for their next 20 years, this team of change-makers will be dreaming even bigger for the local community."
Community Finance Ireland provided Killaloe Ballina Community and Family Resource Centre with a long-term loan of €218,000 to undertake the repairs and renovations required on the buildings. Further funding was provided by the Town and Village Renewal Scheme from the Department of Rural and Community Development via Clare County Council, and LEADER funding from both North Tipperary Development Company & Clare Local Development Company.
Between 2016 and 2021, Community Finance Ireland delivered €7 million in social finance supports to volunteer and community-led organisations in Munster, including €1.7 million in support of projects in Clare, and €1 million in support of projects in Tipperary.
If your community group is  looking for finance, get in touch today or follow us on Twitter.