At Community Finance Ireland 37% of our loan portfolio is made up of organisations from the sporting sector. So our team spend a lot of time talking to and walking with those in their local communities who see sport as a means to offer opportunities, address rural decline and also help personal and community fitness.
Each has a very hands-on approach when it comes to working with our clients. We put people first. When our clients call with a query, they hear a familiar voice at the end of the phone. They know the face who is at the other end of an email. Our change-makers are on the ground, supporting communities, meeting clients and making an impact in their regions.
We speak finance but we hear people – So, we thought you might like to hear their own thoughts on what a sporting change-maker might look like and also their own sporting stories.
---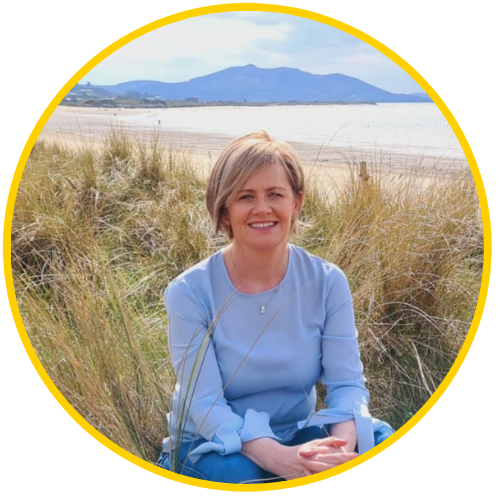 Our first Change-Maker is Anne Graham, Client Relationship Manager from Buncrana, Co. Donegal. Anne's sporting clients include the likes of Kilcar Kayaking, Illies Golden Gloves Boxing and Craughwell Athletics Club.
---
What has been your own involvement in sports?
I wasn't very involved in any team sports at all growing up, as in all honesty there wasn't much encouragement or coaching locally for girls. It was just the way life was back then. I was and still am a keen runner. I remember winning a three mile run when I was about 10 years old. I had no idea I was such a natural at it, until I was told I was first across the finishing line. I still have that trophy.
Nowadays, a lot has changed, I spend a lot of my time in my car, ferrying my two teenage children to GAA and soccer matches.  Between the two of them, they play on five teams- so it is a busy household.  What fills me with joy is seeing two local teenage girls like Emma Doherty and Kerri Loughery lining out for Republic of Ireland games at underage, this is gigantic step both locally and regionally for women in sport.  Make no mistake: this is directly related to local coaching, passion and commitment from volunteers who give their time at grass route level to get our young people to this level.
What client or local sporting clubs do you admire and why?
Our new client Mulroy Hoops is a basketball club located in a rural location within the Fanad Peninsula in North East Donegal.  This club offer an alternative fitness and wellness program for those kids who for various reasons do not or cannot access GAA or soccer. They pay attention to goals for individuals that do not demand winning while at the same time offering avenues for elite athletes to develop. In their current older groups they have players at regional levels for Ulster who are offered trials for the Irish squads and at the same time we continue to introduce players to the sport at a beginners level well into their teen years. This leads to a retention of boys and girls when in other sports they are beginning to drop out.
Additionally, this club have developed avenues for children to train in other aspects of sport such as refereeing, table officials and as player representatives at committee level within the club. They also actively encourage the children to take coaching certificates and offer them opportunities to gain experience coaching within the club and with responsibilities to manage and organise games within the competitive league structures.
For me this is a club who have more than just winning games at heart, they are producing experiences and avenues for children to explore a lot more than sport. In my day sport was never uttered as a career option, what Mulroy Hoops are doing here is sowing a seed of exploration for children at a young age and showing them the way forward. This is done not just in terms of sport but also shows how involvement in sport can forge alternative career options away from the traditional routes for future generations. They also work collaboratively with the LYIT Sports Department and invite in undergraduates to work with the team.
Who is your sporting hero and is there a particular reason?
Ellen Keane. She is not only a European Champion and Paralympic bronze medallist, but she is an advocate for, women, disability sport, and positive body image. She highlights the inequity and difficulties faced daily by people with disabilities, something most able bodied people have little or no awareness or understanding of. In a world where there is a lot of emphasis placed on appearance, Ellen is a role model in changing this perception.
How has sport helped you/ your family/ community personally?
Running has helped me stay fit, stay connected and socialise with friends. In 2020 I took up sea swimming which has helped me push past my comfort zone. The cold temperatures are no joke. I find my children's sport now forms a large part of my social life and meeting up with other families and volunteers helps me get out of my own head.
Finally on a scale of 1 (average) to 5 (excellent) how do you rate your own fitness?
I feel like I am 3+, always room for improvement, I just need to keep it, as part of my routine.
---
If you and your team, have a dream that could make a difference in your community, we're here to listen. Whether you want to change something by solving a problem or creating an opportunity, we want to hear what you have to say. Get in touch with us today.