At Community Finance Ireland 37% of our loan portfolio is made up of organisations from the sporting sector. So our team spend a lot of time talking to and walking with those in their local communities who see sport as a means to offer opportunities, address rural decline and also help personal and community fitness.
Each has a very hands-on approach when it comes to working with our clients. We put people first. When our clients call with a query, they hear a familiar voice at the end of the phone. They know the face who is at the other end of an email. Our change-makers are on the ground, supporting communities, meeting clients and making an impact in their regions.
We speak finance but we hear people – So, we thought you might like to hear their own thoughts on what a sporting change-maker might look like and also their own sporting stories.
---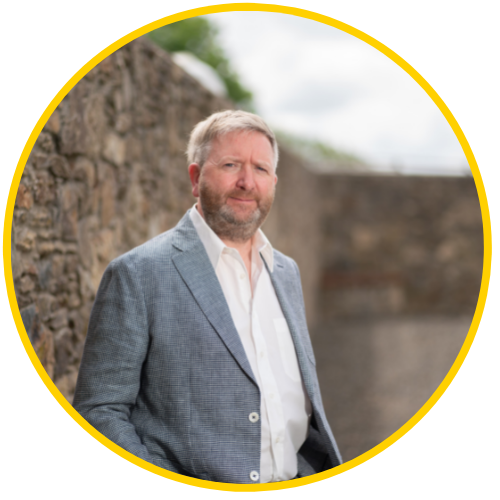 Our next Change-Maker is Barry Symes, Client Relationship Manager from Wexford. Working with clients like Kilcock Celtic FC, Mount Leinster Rangers GAA and Edenderry Golf Club in the Leinster Region, Barry Symes is passionate about seeing clubs fulfil their ambitions, whatever that may be.
---
What has been your own involvement in sports?
I was super fortunate to participate in many sports right across the full spectrum from an early age but unfortunately a double ankle break in my mid-teens put an end to virtually all contact sport from that point on. At this point I turned to golf, where I later became pretty handy getting to a scratch handicap. My sporting involvement and goals these days however are largely played out through my children and my work in Community Finance Ireland with my aim ultimately, is helping all achieve their goals.
What client or local sporting clubs do you admire and why?
It would almost be unfair to single out one club, as all the clubs I am either involved with or have supported have admirable aspirations and are successful in their own right. Overall I would say the more inclusive the club is, the more successful the club is. I am a firm believer in "when everyone plays, we all win". Inclusivity, regardless of ability, is paramount. If pressed on the matter, I would refer to Kilcock Celtic FC who were one of the founders of the FAI's Football For All programme – inspiring.
Who is your sporting hero and is there a particular reason?
In a global setting, two individuals stick out. Firstly, as a keen motorsport enthusiast, the legend that is Ayrton Senna was something else. His bravery, tenacity, doggedness, ability to extract performance from himself and machine at times was extraordinary. Regrettably the nature of the man who always pushed the limits and the sport resulted in his loss of life, but thankfully his legacy lives on. Secondly, Roger Federer – I am not sure who invented tennis, but I'm pretty sure when they watch Roger Federer play, they think, "that's what I'm talking about".
How has sport helped you/ your family/ community personally?
Sport is so much greater than just the playing of the game or sport. It is often the glue that binds us as players, coaches, supporters, spectators, critics and individuals in our clubs and communities. The very nature of it is also super important not only for our physical well-being but also our mental health where activity is well proven to have a positive impact. It also however plays tricks in thinking we are now capable of keeping up with those actually participating. But it's all good and no different to many across the country, particularly with Covid, it has been our invaluable escape.
Finally on a scale of 1 (average) to 5 (excellent) how do you rate your own fitness?
Let's just say, there's work to be done.
---
If you and your team, have a dream that could make a difference in your community, we're here to listen. Whether you want to change something by solving a problem or creating an opportunity, we want to hear what you have to say. Get in touch with us today.