At Community Finance Ireland 37% of our loan portfolio is made up of organisations from the sporting sector. So our team spend a lot of time talking to and walking with those in their local communities who see sport as a means to offer opportunities, address rural decline and also help personal and community fitness.
Each has a very hands-on approach when it comes to working with our clients. We put people first. When our clients call with a query, they hear a familiar voice at the end of the phone. They know the face who is at the other end of an email. Our change-makers are on the ground, supporting communities, meeting clients and making an impact in their regions.
We speak finance but we hear people – So, we thought you might like to hear their own thoughts on what a sporting change-maker might look like and also their own sporting stories.
---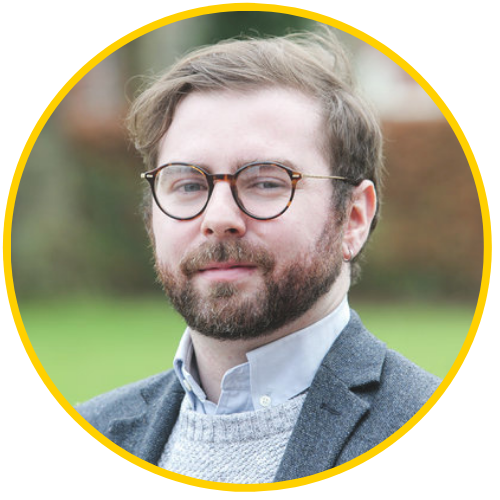 Our next Change-Maker is Nicky McElhatton, Marketing and Social Media Executive from Coalisland in Co. Tyrone. Nicky is a self-proclaimed couch potato but he has recently tried to change that.
---
What has been your own involvement in sports?
At school, P.E. was my least favourite subject. I would always conveniently 'forget' my P.E. kit so I didn't have to take part. That was until the teacher announced that the class would be travelling the short distance to Dungannon Leisure Centre for six weeks of swimming. I loved being in the water and was more advanced than most of the class. This was because when I was four, my father had taken me every Saturday to the same pool for 'Little Duckling' swimming lessons. It was funny to hear exclamations from my (usually more athletic and sporty) classmates who were surprised that I was actually good at a sport, as I outswam them in the pool.
As an adult I must admit that my involvement in sport has been minimal. That was until recently. Having enjoyed a summer of sport on the TV with the Euros soccer competition, the Olympics, the Paralympics and my native Tyrone impressing on the GAA pitch, I have been inspired to take up some exercise. I quickly downloaded the Couch to 5K app having had it recommended my some of my more exercise-inclined friends. I'm now in Week 9 and already notice a marked difference, not only in my fitness levels, but my stamina, my mood and my mental health. Taking to the nearby Orangefield Park with my partner, sweatbands on, earbuds in and warm up exercises done, the app's Denise Lewis has coached me three times a week, with incremental increases in run to walk ratio as the weeks go by. By the end of each 30 minute session I am usually out of breath, shins aching but it always feels worthwhile and I'm always looking forward to my next run.
What client or local sporting clubs do you admire and why?
We have such a diverse range of clients spanning many different sports. I always find it interesting when a sport that I know little or nothing about approaches us for assistance in developing their organisation. Niche sports like kayaking, harness racing and cliffhanging are represented in our portfolio with clients like Kilcar Kayaking (Co. Donegal), Irish Harness Racing (Co. Dublin) and Dublin Cliffhangers (Co. Dublin). They truly represent the resilience that exists in the sports sector. They represent sports that may find it more difficult than mainstream sports to leverage funding from traditional sources, often having to fight harder or state their case more emphatically. But they don't let this get in the way of their passion that they have for their particular sport and they strive to improve their facilities for those in their community who are equally passionate.
Who is your sporting hero and is there a particular reason?
With the Euros dominating the airwaves this summer, I got really into football like I never have before and never missed a match. With Ireland not making the cut in the qualifying stages, I had to look for an alternate national team to support. That's when I fell in love with Italy and in particular Lorenzo Insigne. He was always at the heart of the action, tirelessly creating goal opportunities for his team and in particular his partner in crime Ciro Immobile. The team had their ups (topping their group with maximum 9 points) and downs (that dicey match with Spain resulting in a penalty shootout) but ultimately they powered through and won their second Euros title, made all the sweeter by the fact that they beat England in the Final.
How has sport helped you/ your family/ community personally?
My whole extended family are mad into the GAA. Always have been and always will be. Growing up we would always have gone to all the Tyrone matches together and never missed one. My dad was always on the phone hunting for tickets for the more sought after games. While my mum's patience was put to the test trying to organise the three children- making sure our jerseys were cleaned and ironed, that the flasks were filled with tea, that the half time sandwiches and snacks were packed in our picnic bag. This was a special time for us to bond as a family.
With Tyrone's recent success in the Ulster Final and winning the All Ireland Final, we've had the chance to relive those glory days, albeit this year in front of the TV, rather than pitch side. Travelling home to Coalisland for Tyrone's clash against Mayo, we were all gathered round cheering on the boys in red and white. There has been a bit of discord in the family though, as one of my cousins recently married a Mayo man. When the two counties did battle in the All Ireland final, I'm glad I wasn't watching in their house.
Finally on a scale of 1 (average) to 5 (excellent) how do you rate your own fitness?
I feel like a 3 is fair assessment. It's very much a case of a work in progress. While I have started doing my Couch to 5k and I am enjoying it, it's very much a recent thing. Prior to this I did zero exercise with the exception of the occasional Sunday walk. I also feel like I could be doing more. So I'm hoping to incorporate a weekly swim in the Winter when the weather starts to turn.
---
If you and your team, have a dream that could make a difference in your community, we're here to listen. Whether you want to change something by solving a problem or creating an opportunity, we want to hear what you have to say. Get in touch with us today.