At Community Finance Ireland 37% of our loan portfolio is made up of organisations from the sporting sector. So our team spend a lot of time talking to and walking with those in their local communities who see sport as a means to offer opportunities, address rural decline and also help personal and community fitness.
Each has a very hands-on approach when it comes to working with our clients. We put people first. When our clients call with a query, they hear a familiar voice at the end of the phone. They know the face who is at the other end of an email. Our change-makers are on the ground, supporting communities, meeting clients and making an impact in their regions.
We speak finance but we hear people – So, we thought you might like to hear their own thoughts on what a sporting change-maker might look like and also their own sporting stories.
---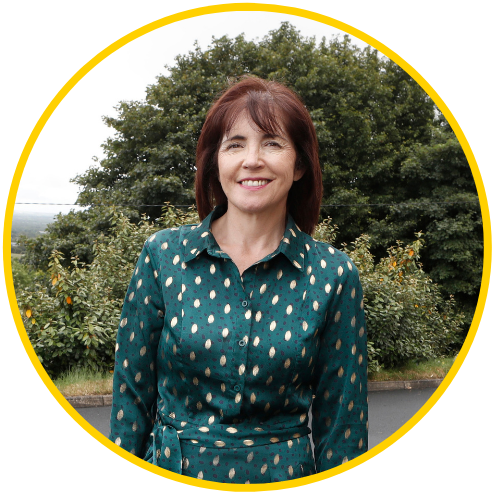 Our next Change-Maker is Nora Keogh, Client Relationship Manager from Newcastle West Co. Limerick. Working with clients like Dromcollogher Community Council CLG, Ardagh Community Centre Association and Crusheen Community Centre CLG in the Munster Region. Nora is passionate about cycling and spends much of her free time cycling our fantastic Greenways across Munster.
---
What has been your own involvement in sports?
As a young child/teenager I got involved in running as we had an annual sports day in our local parish where we all aspired to perform to the best of our ability and enjoy a great community day in the process. We had fantastic parish volunteers locally who gave up so much time to help get everything ready for the annual sports day. The 100m was my race of choice and I was delighted to be in the top three on a number of occasions.
None of this could happen without the dedication of the committee and their team of volunteers. I now understand the dedication of those involved at the grass roots of the parish in encouraging us all to join in sports regardless of our ability. This fostered a love of running in many of the participants which has resulted in some fine athletes from the parish and, at a broader level, an appreciation of how sports can help us all stay fit and healthy and promote a feel good factor.
What client or local sporting clubs do you admire and why?
Our local athletics club, the West Limerick Athletics Club (AC) inspires me as they have always maintained a great club for people of every ability with no facilities other than the local Demesne Town Park. A new state of the art Regional Athletics Hub is currently under development on the outskirts of Newcastle West in Co. Limerick which has taken years to get to fruition through the hard work and perseverance of the people involved.
This will really help all level of athletes train in all seasons and will bring a number of athletics clubs together in the region. This facility will be the first of its kind in the West Limerick /North Cork area and will also be used for regional and national competitions when completed in 2022.
West Limerick AC have great, dedicated coaches who work with all the juniors and foster a love of running and all are welcome and encouraged regardless of speed or ability.
The mantra is to get involved and enjoy and keep fit in the process. Every junior is encouraged to take part in events and the focus is on taking part and finishing the race which helps build character and life skills.
This new Regional Athletics Hub will provide a fantastic facility for all level of athletes and provide a top class facility for all the members to train locally in a state of the art facility and reach their personal best. I am really looking forward to seeing the new Hub finished in 2022 which will be a top class Regional Athletics Hub comparable to anywhere in Europe.
Who is your sporting hero and is there a particular reason?
Carolyn Hayes is our local Triathlon winner from Newcastle West Co. Limerick who competed in the recent Olympics and finished in the top 28. Carolyn previously won silver in the World Triathlon Cup in May 2021 and is currently ranked no. 28 in the World Triathlon rankings.
Carolyn is a fantastic example of dedication and commitment and a real model for young people. Carolyn cycled with our local Newcastle West Cycling Club and always encouraged everyone else to get involved.
Carolyn is also a doctor and really shows us what you can do if you are dedicated to your goals. She is a true ambassador for all women and promoting women's sports at every level and has always taken time to encourage local sports clubs at every turn and encourage everyone to get involved regardless of ability.
How has sport helped you/ your family/ community personally?
Although I don't run anymore I have taken up cycling and joined the local Newcastle West Cycling Club. Cycling really helps me maintain a balance in a busy live with family and also keeps me fit.  I've competed in a number of cycling events such as the Ring of Beara, in Kerry. Organised by one of our members we covered 175km and helped raise over €2,000 for the Alzheimer's Society.
We now have a new Greenway across West Limerick which has really helped encourage cyclists of all ages and families to cycle or walk together and enjoy quality time outdoors while taking in our fantastic countryside. I and my family are found here most weekends, whatever the weather.
Finally on a scale of 1 (average) to 5 (excellent) how do you rate your own fitness?
Currently I would say 3, depending on the company I am in. I am always striving to get better but that is a never ending story.
---
If you and your team, have a dream that could make a difference in your community, we're here to listen. Whether you want to change something by solving a problem or creating an opportunity, we want to hear what you have to say. Get in touch with us today.