At Community Finance Ireland 37% of our loan portfolio is made up of organisations from the sporting sector. So our team spend a lot of time talking to and walking with those in their local communities who see sport as a means to offer opportunities, address rural decline and also help personal and community fitness.
Each has a very hands-on approach when it comes to working with our clients. We put people first. When our clients call with a query, they hear a familiar voice at the end of the phone. They know the face who is at the other end of an email. Our change-makers are on the ground, supporting communities, meeting clients and making an impact in their regions.
We speak finance but we hear people – So, we thought you might like to hear their own thoughts on what a sporting change-maker might look like and also their own sporting stories.
---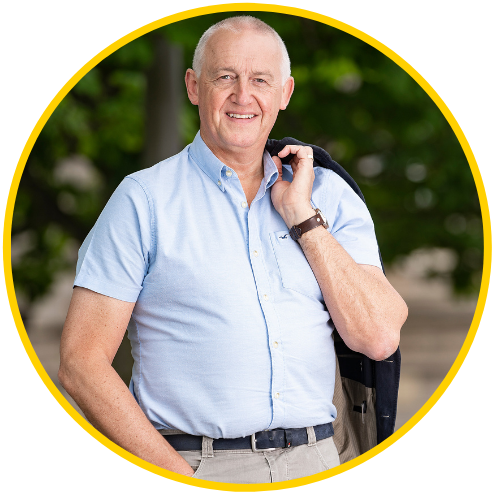 Our next Change-Maker is Peter Smyth, Client Relationship Manager from Moira who works with clients like Ballymacash Sports Academy, St Molaise GAC Irvinestown, Ballynahinch Rugby Club and Glendermott Cricket Club.
---
What has been your own involvement in sports?
I have had a love for sport for as long as I can remember. My real passion is for soccer and I loved nothing more at school than at break and lunchtime getting the football out and playing until the school bell rang. When I moved to grammar school I played rugby for the 1st XV and have fond memories of lining out on a Saturday morning for my school team Rainey Endowed in Magherafelt. Those few years were probably my most enjoyable sporting years as I was playing along with boys who I sat in class with every day and with who I formed great friendships.
On leaving school I then played rugby for Rainey Old Boys' for a few years and enjoyed stepping up to a higher level. This involved travel all over the country which I really enjoyed. Due to work commitments I stepped away from rugby and became more of a soccer fan again and especially when my son began to play for our local club Lurgan Town. I have been watching him play now every Saturday since he was four years of age and he is now 28.
He now plays for and captains Lurgan BBOB and while I love standing on the sidelines watching him play, nothing beats stepping over the white line oneself. I have now been brought onto the club committee and I enjoy employing my financial skills to assist in the club's ongoing development.
Until recently I have been playing six a side soccer every Monday evening however having just reached a significant birthday I have gracefully retired! My one major regret is that I didn't keep playing rugby competitively for much longer.
What client or local sporting clubs do you admire and why?
To be honest I am reluctant and would struggle to single any one local club out. I continue to be amazed at the enthusiasm, energy and commitment of the vast number of volunteers involved across the full range of sports we have supported.
Our entire loan portfolio is characterised by dedicated teams of volunteers who give themselves selflessly to a range of causes including sport. Given the many mental health issues that have been caused by the COVID pandemic, sport is such a great channel to clear the head and focus on something positive.
Who is your sporting hero and is there a particular reason?
My local sporting hero, who unfortunately is no longer with us was George Best. He was quite simply a natural talent who excited the crowds and was someone who all youngsters wanted to be like in terms of his ball skills. I also admired Willie John McBride for his man management skills as well as his rugby playing ability. Leading the British Lions to an unbeaten tour in South Africa in 1974 was an amazing feat.
How has sport helped you/ your family/ community personally?
Sport is great medicine for one's health and emotional wellbeing. There is nothing better than to get out in the fresh air and clear the head. Whether it be playing or just observing the game, it does push the stresses and strains of everyday life into the background which can only be beneficial.
Finally on a scale of 1 (average) to 5 (excellent) how do you rate your own fitness?
I'd say a 2, Fair.
---
If you and your team, have a dream that could make a difference in your community, we're here to listen. Whether you want to change something by solving a problem or creating an opportunity, we want to hear what you have to say. Get in touch with us today.