At Community Finance Ireland 37% of our loan portfolio is made up of organisations from the sporting sector. So our team spend a lot of time talking to and walking with those in their local communities who see sport as a means to offer opportunities, address rural decline and also help personal and community fitness.
Each has a very hands-on approach when it comes to working with our clients. We put people first. When our clients call with a query, they hear a familiar voice at the end of the phone. They know the face who is at the other end of an email. Our change-makers are on the ground, supporting communities, meeting clients and making an impact in their regions.
We speak finance but we hear people – So, we thought you might like to hear their own thoughts on what a sporting change-maker might look like and also their own sporting stories.
---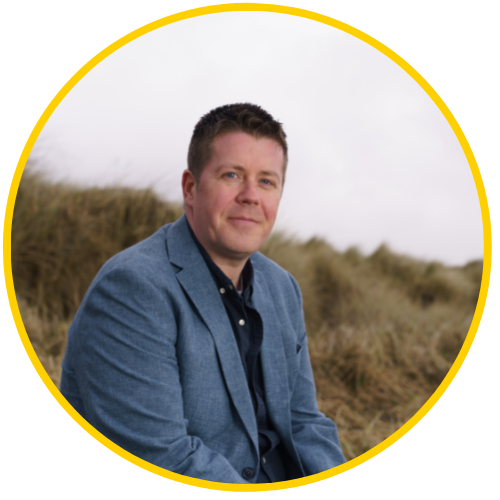 Our next Change-Maker is Emmett O'Hara, Head of Community Finance RoI, from Bettystown. Working with clients like Father Manning Gaels, Hercules Club and Athlone Town AFC in Longford, Dublin and Westmeath, Emmett is passionate about all sports.
---
What has been your own involvement in sports?
I played rugby and hurling in my younger years.  I now coach my son Matthew's under 9 soccer team (Donacarney Celtic). My daughter Lily also plays GAA for St. Colmcille's in Bettystown, where my wife Miriam is also involved on the coaching side.
What client or local sporting clubs do you admire and why?
I admire our client the Hercules Club which is based in the North Inner City Dublin. The club has been in operation since 1935 and despite a number of moves has built a strong legacy with generations of weightlifters and boxers involved.
We also have a number of GAA clubs who make such an impact in their local area at every level – sporting, social and also community. Ones that come to mind include Kiltegan GAA, Lough Lene Gaels and Mount Nugent GAA.
Who is your sporting hero and is there a particular reason?
Kenny Dalglish would be a long term hero of mine, not only because he was such a great player and manager but also because of the efforts that he made in the aftermath of the Hillsborough tragedy by attending every funeral to help those families who had lost loved ones, with their grief.
How has sport helped you/ your family/ community personally?
Sport is a huge part of the local community in Bettystown. There is a very diverse range of sports available to play including GAA, soccer, athletics and given the sea side location – swimming, paddle boarding, kite surfing and also recently beach volleyball.
Sport brings people together and I think this has been illustrated over the span of the pandemic when we have needed those networks more than ever, and volunteers have stepped up with new and innovative ways to develop clubs and build communities.
Finally on a scale of 1 (average) to 5 (excellent) how do you rate your own fitness?
The kids are a lot fitter than I am, I'm happy enough to cheer from the sidelines.
---
If you and your team, have a dream that could make a difference in your community, we're here to listen. Whether you want to change something by solving a problem or creating an opportunity, we want to hear what you have to say. Get in touch with us today.